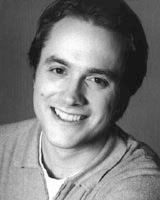 JAMES WIRTH
(Greg)
Born in 1973, James Wirth's acting abilities lay dormant until his teen years when his natural ability was discovered while participating in various local theatre performances. After a hiatus of more than ten years, Wirth has focused again on his acting career, securing lead roles in theatre and film alike.
Wirth's emphasis on building a real-world understanding of the emotions his characters experience creates a presence on stage and in film that is paralleled by only a few. The creative energy that Wirth brings to each project is nothing short of inspiring.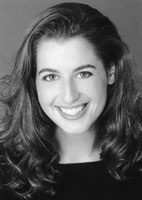 ELIZABETH AMMANN
(Claire)
Elizabeth is originally from Michigan, where she went to school at the University of Michigan, receiving a degree in mechanical engineering. She moved to Washington with a job at Boeing and now works at their Long Beach plant as a stress engineer. Elizabeth has acted in a number of independent films as well as local theater productions. She was also a member of the Seattle sketch comedy troupe, The Night Shift. In addition to acting, Elizabeth is also a dancer and martial artist. After six years in the Seattle acting scene, Elizabeth has recently relocated to the Los Angeles area to take her acting career to the next level.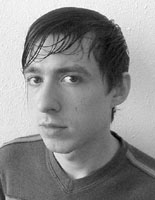 RYAN CLOUTIER
(Sean)
Originally from Southern Maine, Ryan Cloutier has performed in various theatres and independent films since he was nine years old. After graduating high school, he joined the Marine Corps as a bassoonist. After a four year stint in Hawaii, he headed to Portland, Oregon where he both acted in and worked crew for various independent productions in the Northwest. Ryan is currently working on the script for his first short film, which he hopes to produce next spring.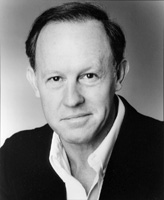 ROBERT HEATH
(Harris)
Robert started acting in 1981 while serving in the US Army in Germany. Since retiring from the service in 1996, Bob has been steadily working in film and stage productions and has provided narration and character voices for numerous training films and CD Rom games. He has appeared in over twenty stage productions, over twenty-seven independent feature and short films and numerous local and national television and radio commercials. He has portrayed a wide variety of characters during his career including but not limited to: 1950's game show host John Daly in the Lifetime Channel Movie Take My Advice the Ann and Abby Story, FBI Agent Webster Frye in The Fall of Jimmy Ritz, Tom Demont, TV pilot Possession Point, a womanizing businessman in Streets of Blood, God in Gambling Divinity, a Pastor in Counseling Day , and Roman Senator Anteros Andronicus in All That Remains.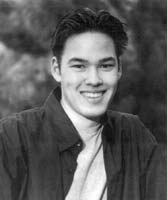 WILL SEXTON
(Mark)
Will Sexton took an interest in acting in his 7th grade drama class. He has always had an avid interest in film, whether it was in front of or behind the camera. He has worn many hats in the art of film, including gaffer, camera operator, assistant director, and production assistant. He started taking acting seriously within recent years. In the past few years, he has appeared in commercials, shorts, and feature-length films. He aspires to become a producer and make it in the everyday struggle of the Hollywood shuffle.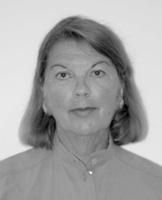 J MAKI
(Hospital Cashier)
J Arja Maki has done numerous Indie films. She has watched others murdered, been murdered, and been the murderer. She has been a therapist, a performance artist, a sports fan, a doctor, a mother, a TV chef, a receptionist, and an assortment of odd women. She does theatre as well as voice-overs.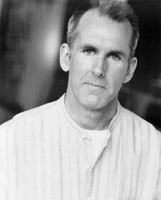 TOM FRASER
(Joe)
Tom broke into acting in the late 80s. His first major role was at the New City Theater's Playwrights & Directors Festival in The Writing on the Wall, which later went on for a short run at that theater. Favorite projects include the critically-acclaimed and audience favorites Flynn, Black Irish, The Day They Shot John Lennon, and the role of the tough-talking Capt. McQuigg in The Racket at the Union Garage. On screen, he has been in a number of local projects: Even Angels Cry, The Waiting Room, Leave-It, and in the recent past on the small screen you may have seen him as the lone surfer swimming with sharks in a D.A. Davidson Investment commercial.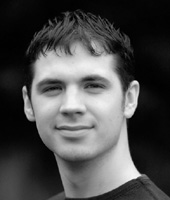 ANDY EVANS
(Copy-Store Clerk)
A current student at Western Washington University with a major in Theatre Arts and focus on acting. Although the interest began in theatre/stage, the love and dedication has shifted onto film/television. Plans are to go to graduate school at USC for film acting, followed by a pursuit of dreams in acting on film. Keep a lookout. He's a good one...and modest, too.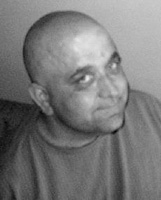 JAMES L. TINSLEY
(Drunk)
A graduate of DeAnza College, James L. Tinsley is a founding partner in Bursting Universe, an indie film production company. His in-front-of-the-camera work includes roles in Last Stop, Cons, Going Straight, and Therapy, as well as an F.B.I. training video.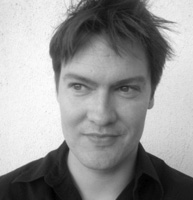 KEVIN CLAUSSEN
(Accident Witness)
Moved to Seattle in 2002 from Austin, Texas and began promptly getting into local indie flicks "for kicks." Loves a good stout and has an insatiable chocolate addiction. Prefers character acting, where he can put on an accent or greatly alter his appearance so as to portray someone far removed from himself. Claussen is also a writer, sometimes graphic artist, and occasional singer. Lives with his young daughter on Capitol Hill.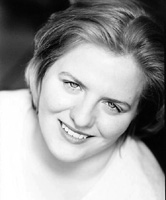 MARGARET O'MALLEY
(Sean's Mother)
Margaret O'Malley is a professional actress who has been living in the Seattle area since 1996. Favorite stage roles include Chick in Crimes of the Heart and Capulet in an all-female Romeo and Juliet. Film credits include Counseling Day and Since You Were Gone, directed by David Schwimmer.
Unless noted, all content © 2004 by Northern Lights Motion Picture Company, LLC. All rights reserved.