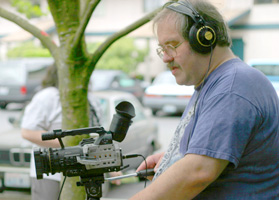 JAMES DAVID WALLEY
(Writer-Producer-Director)
James David Walley's destiny was clear from the start, as, arriving prematurely, he was nearly born in Grauman's Chinese Theatre during a screening of The King and I. Like so many others, Walley was first was drawn to filmmaking during the "golden era" of the early 70s. When his first short film, made in two days as a high-school class project, was selected by Continental Cablevision for statewide broadcast, Walley had found his vocation. Following graduation from St. John's College (while producing and directing short films during vacations), Walley enrolled at California Institute of the Arts, earning an M.F.A. with his half-hour Super-8 drama, Almost Home.
But life after film school was a far different story. "Breaking into the industry was every bit as hard as my family and friends had told me it would be," Walley now says, "and it was a shock to realize that I could no longer afford to make even a Super-8 short." Further industry rejection, increasing financial difficulties, and a devastating split from his personal and creative partner eventually resulted in Walley selling vacuum cleaners door-to-door, and sleeping in his 1980 Toyota in vacant parking lots and highway rest stops. Finally, Walley set aside his filmmaking dreams, taught himself computer programming, and began a career as a game developer (ironically, often designing and programming the computer-game versions of popular films and television series).
But dreams never die completely, and Walley's were reawakened by an unexpected technological breakthrough, digital video. "I was so far out of touch, I only learned about DV years after it was introduced," Walley says, "I suddenly realized that it was now possible to make motion pictures – even features – for a cost I could pay out of my own pocket. All the dreams of twenty years before came flooding back. As soon as I could, I started setting down on paper the story that had been drifting in and out of my mind for years, the story that became Messages."
Not wanting to plunge directly into a feature after twenty years of inactivity, Walley first wrote and directed the short "unauthorized sequel" Titanic II, which played to enthusiastic audiences in Seattle and New York. With that experience under his belt, Walley was ready to move ahead with Messages, making him probably the oldest first-time feature director of 2004. According to Walley, it was all for the best. "Had I gone into feature filmmaking earlier in life," he says, "I probably would have gone on to imitate whatever was trendy at the time, like so many young filmmakers do. The advantage to being older is that it's hopeless to try to be fashionable, so I might as well just do things my own way."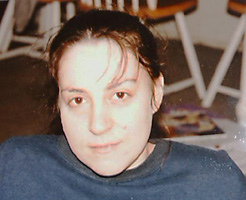 KELLY ABBOTT
(Producer)
Kelly Abbott is a director of the Digital Revolution. She took up movie making in 1999 and currently writes/directs/produces comedies in Seattle, Washington. Her credits to date include the features Last Stop, Cons and Going Straight, and the shorts Lighthouse and Therapy.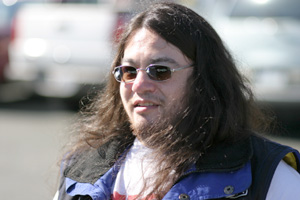 ALBERT WARREN SCHLOSSER
(Producer – Director of Photography)
Upturning decayed leaves and damp rocks of some dingy, unusual location, one might notice the appearance of a certain Albert Warren Schlosser. As a native resident of Seattle, Schlosser took an early liking to visual forms of stimulation, beginning with arts and crafts in grade school. As a teen, he began to study drawing with pencil and pen and ink. Meanwhile, at the age of 15, Schlosser took up writing. We would later discover that his ambitions in writing drove him to achieve a degree in Composition at Western Washington University. After high school he began a self-study in cinema, browsing the works of directors like Luis Buňuel, Ingmar Bergman, Mario Bava, Dario Argento, Martin Scorsese, Lars Von Trier, Enzo Castellari, among dozens of others. At another time, he spent full-time hours every week lighting subjects, snapping photos, and perfecting developing and printing techniques. Ultimately, strong interests in writing, cinema, and photography led Albert Schlosser to his goal as a filmmaker.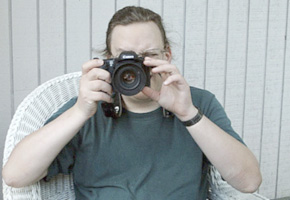 GREG BARNETT
(Co-Producer)
Greg Barnett is a software developer who includes photography, cinematography and editing among his hobbies. More of his photography can be seen on the Not Quite Right Photography site.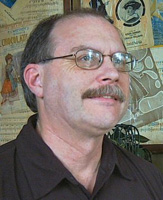 CHRISTOPHER BARKER
(Composer)
Christopher D. Barker, B.Mus, M.A., is an award-winning composer whose twenty-eight soundtracks have been performed on tens of thousands of home and corporate computers on this continent and abroad. This, plus his background as university music theory and piano instructor, professional violinist and baritone hornist, orchestra and choir director, and long-time professional colleague, made him the clear choice to compose the soundtrack for James David Walley's 2002 short film Titanic II and, in 2004, his feature-length Messages.
Chris composes, orchestrates, performs, records, engineers and produces live-performance-quality music in a home studio centered around Tascam's GigaStudio, in a penthouse condo with a stunning panoramic view of idyllic Auburn Valley, south of Seattle. He still holds out a faint hope that he will turn out to be a child prodigy after all.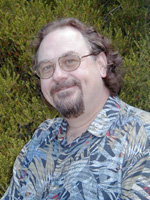 CRAIG UTTERBACK
(Sound Editor)
Craig Utterback is a composer/sound designer/audio developer who grew up in the musical Eden (or Inferno) of New Orleans during the '50s and '60s, where he picked up his first guitar and a passion for music of all styles. Upon graduation from high school, he received a reel-to-reel tape recorder, which launched his never-ending consumption of recording media and music/audio technologies. In the mid '70s (as an Apollo 17 mission team member), he met his first computer at the Johnson Space Center in Houston, Texas. After more than twelve years as a computer hardware professional, while becoming educated in music theory (along with participating in numerous music and recording projects), Craig made a transition to software development in the computer game industry. Since 1990 he has designed, produced and composed music and created sound effects, voice content, and integration schemes for more than thirty computer games as well as numerous music, independent film, and other products related to electronic entertainment. He is currently Director of Audio Creation, Corrections & Rehabilitation at the TCS Memorial Sound Abuse Clinic & Mental Health Spa in Kent, Washington. Craig plays, builds, and restores guitars, basses, and audio tube amps when he gets the opportunity.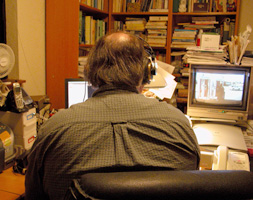 E. GORAN AMMOCH
(Editor)
Ammoch is a close personal friend of the director. Messages is his first feature editing assignment.
Unless noted, all content © 2004 by Northern Lights Motion Picture Company, LLC. All rights reserved.